Services for 5-12s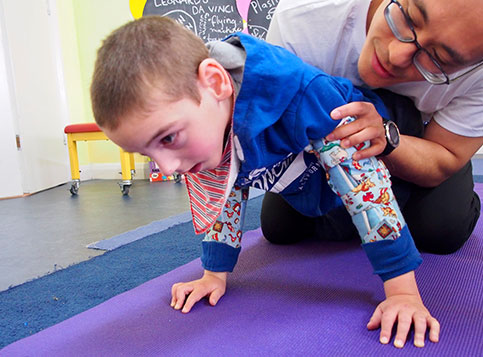 Saturday School
Whoopsadaisy offers free group sessions to children aged 5-12 on Saturday mornings and aftrenoons in term time. The two hour long sessions are held in Preston Park, Brighton and are led by our qualified Conductors with the support of a team of trained volunteers.
In these sessions we work with a maximum of four children per group with a 1:1 child-helper ratio, providing a safe learning environment.
The groups are built around the children's needs and abilites and the service focuses on building life skills and helping to integrate these new skills into the children's everyday life.
This service is for children with cerebral palsy and similar motor disorders who are able to follow verbal instructions to complete tasks. Joining the Saturday School service is subject to a free initial assessment.
For more information, please see our Admissions Policy and get in touch to book an assessment.
If you are a professional working with a child who attends Whoopsadaisy and you would like to come along to meet us, learn about conductive education and observe a session, please get in touch with Nora, our lead Conductor for the 5-12s services.
What To Expect
The children who attend Saturday School sessions work towards the following goals:
building self-esteem and confidence
developing a can-do attitude
finding creative ways to solve everyday challenges, using their skills
creating and encouraging an active lifestyle
building motivation for self improvement
encouraging social interactions
achieving greater independence.
Holiday Clubs
Holiday Clubs are a chance for your children to make new friends and to have fun while building on their existing skills to support them at school and help them become more independent.
A team of experienced and qualified Conductors work with the children alongside trained volunteers. Up to 6 children can attend the Holiday clubs each day, either for a morning session or for the whole day, depending on their needs.
We run a week long Holiday Club in the Easter holidays and two weeks during the Summer holidays. On the last day of the Summer Holiday Club we invite the children's family members for an inclusive activity day with us.
If your child does not already attend Whoopsadaisy, joining is subject to a free assessment. For more information, please see our Admissions Policy and get in touch to book an assessment.