Services for Under 5s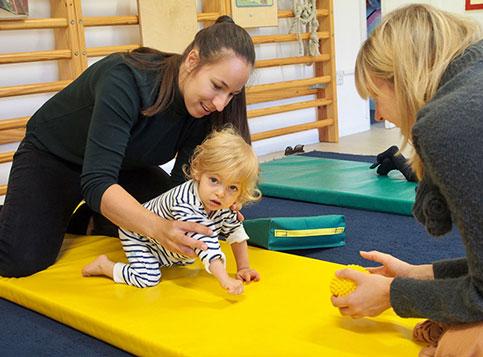 Parent and Child groups
We offer weekly, free group sessions for families with children aged 1-5, to help them reach their milestones and full potential.
We can help children with a wide range of motor disorders, including some undiagnosed conditions affecting mobility such as cerebral palsy, global development delay, acquired brain injury and Down's Syndrome etc. subject to a free initial assessment.
For more information about joining Whoopsadaisy, please see our Admissions Policy and get in touch to book an assessment.
What to expect in our sessions?
After an informal initial assessment, our qualified Conductors will recommend a group for you to join with your child, based on their age and abilities.
We run sessions weekly during term time from our centre in Preston Park, Brighton. The sessions are built around the needs of the children participating, and are one or two hours long. In the groups we work with a maximum of four children and their parents or carers, to teach them how to help the children in their everyday life.
What to expect from our Under 5s services:
A holistic approach that considers and promotes improvement in all areas of development, such as physical, social, emotional, self-care, and communication.
Information and support are given on equipment, procedures, and other available services in the area, etc. We can also help parents with their children's application processes by writing contribution reports (e.g. for Education, Health and Care Plan, etc.) to support their cases.
A positive atmosphere where everyone focuses on what the children can do, and works towards helping them reach their potential.
A well equipped and welcoming environment where the children can learn, explore and develop safely.
A new perspective by helping them find ways to integrate the principals of conductive education into everyday life. We work hands-on with the children but also teach their parents and work with them as a team.
A supportive community where parents are looked after by our caring team of qualified staff. We work together with the families and share ideas and experiences as a team, working for the same goal: the development of the children.
Events and workshops that help parents and carers gain new skills and knowledge around topics that might interest the families. We hold informal family events twice a year to bring the parents and children of Whoopsadaisy together.
Our Parent & Child Groups are playful, interactive and carefully designed to be age and development appropriate. Children make friends and have fun while learning essential skills for living a full and independent life.
If you are a professional working with a child who attends Whoopsadaisy and you would like to come along to meet us, learn about conductive education and observe a session, please get in touch with Zsofia our lead Conductor for Under 5s services via email czimer.zsofia@whoopsadaisy.org or on 07533 956149.